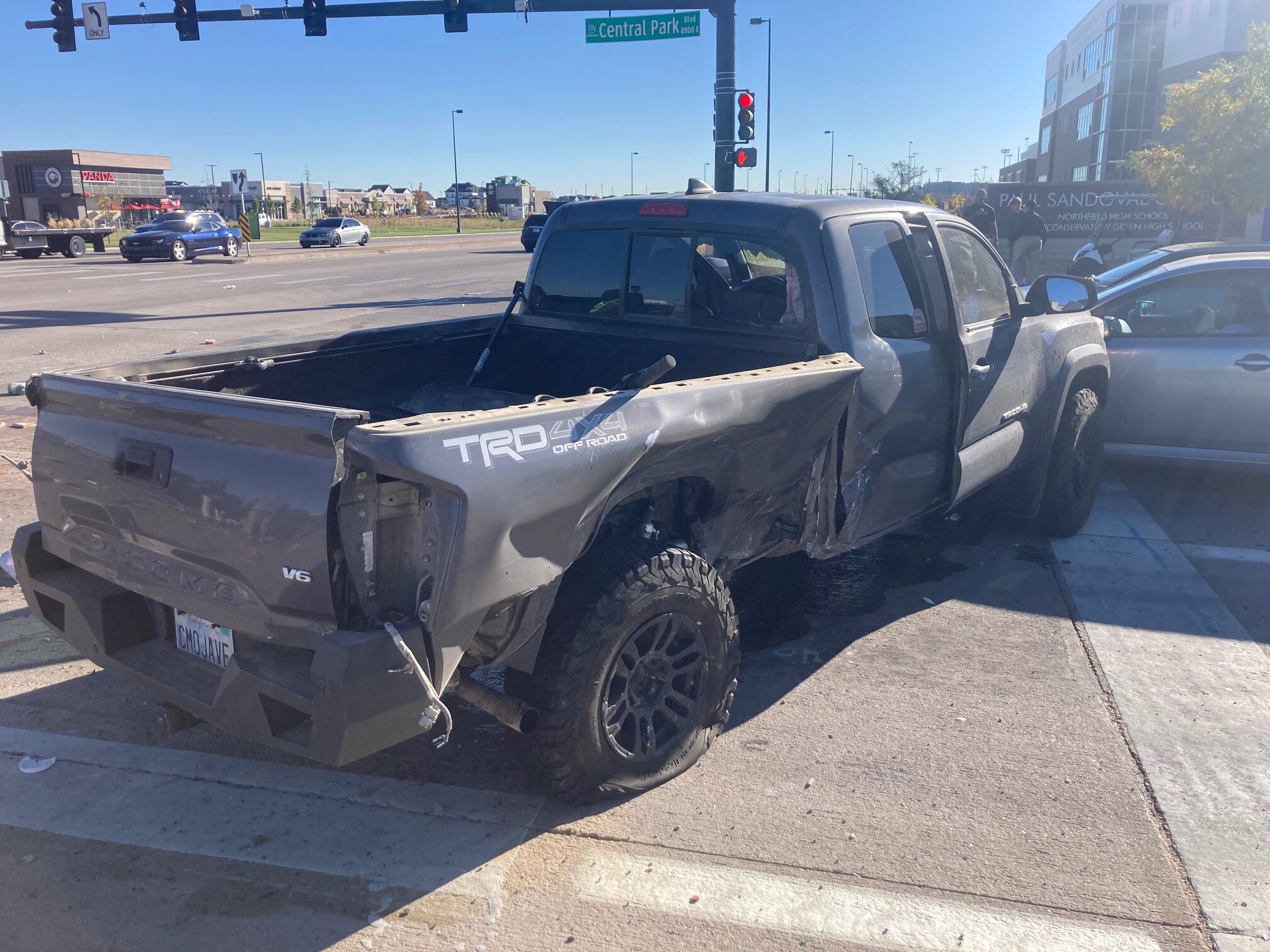 My last morning in Denver ended with a bang. I had driven from my home in Southern California to Denver over the course of two days to visit with my brother and sister in law, Sara, their young Labrador pup, Sadie (my new dog niece), and my longtime friend, Katy, before I would carry my camera high into the Rockies. On my final morning in town, my brother and I departed for breakfast but made it only a half a mile before we were violently t-boned at high speed in a nearby intersection.
I've been involved in only a few minor vehicle accidents in 38 years of driving. The violence and loss from this incident was particularly traumatic for me. We had been stopped at a red signal. I always look both directions before proceeding on a green (even on one way streets) but had seen nothing of concern. After making it about ⅔ of the way through the intersection, my brother abruptly yelled out. I looked in his direction to see a Mazda hurtling toward us at a high rate of speed. And then BAM. While later discussing the accident at the hospital, my brother and I had both experienced the same sort of slow motion am-I-dead? event. We both felt the similar sensation of spinning slowly through space with debris flying all around. I briefly had no sense of time, place, or orientation - I just thought I might die. The posted speed was 40mph. I believe we were impacted at no less than 50mph with NO braking or skidding. My brother thinks it was at least 10-20mph faster. The video will be disturbing to watch but someday we'll know for certain.
Airbags had deployed on my brother's side (passenger). I first made sure he was okay before I bailed from the truck to check on the female driver of the Volvo against which my truck came to rest. The fire department is nearby; they had arrived quickly. After I summoned a medic for the Volvo driver, I took stock of the situation: four cars had been involved, two groups of two set apart by approximately twenty feet. I only briefly saw the driver of the Mazda that negligently plowed into us. I would learn later that he was on the scene for no more than 60-90 seconds before fleeing with a limp, a head wound, and a backpack. He ran across the street, quickly stealing a vehicle to make his getaway. Not as important to him were his unconscious female companion who at last word remains in critical condition, nor the dog in the backseat (who although looking terrified seemed uninjured). As of this writing, the driver remains unidentified and on the loose.
The intersection was a mess. The impact had occurred mainly on the passenger-side axle and truck bed, ripping the Snugtop shell from the bed and sending it flying along with the bed contents: five gallons of propane, five gallons of gasoline, a floor jack, camp stove; camping accessory crates; 5 gals of water; air compressor; canned goods; trekking poles, and so much more. It had all been sprayed and destroyed across that intersection. The driveshaft was broken, the frame was bent badly, and a full gas tank bled out onto the asphalt. The violent impact had even blown both taillights off the bed. Some readers may be wondering: thousands of dollars worth of camera gear was safe, stowed away in my brother's home (it never rides in the back of the truck for this very reason; cab only). The distracting shock and trauma of the scene led me to realize only hours later that a fireball could have easily ensued and that the ending to this story could have remained unwritten.
Most importantly, my brother and I got to walk away (rather, limp away). For this and a good truck build (my sacrificial 2017 Toyota Tacoma TRD Off-Road) I will be eternally grateful. Due to the nature of the accident, an active crime scene was declared and a four hour investigation took place (including a full 3D scan of the intersection). Excellent video was obtained from two nearby locations that immediately explained fault to investigators. We self-transported to the hospital at the end of the investigation where I was x-rayed for rib fractures (none noted). If you've ever had bruised or fractured ribs, you know how painful it can be to sneeze or cough. It's now been three weeks but rib and lumbar spine pain still linger. Thinking back to the first few days following the October 11 accident date, I recall that I could barely walk through the intense pain I was experiencing.
This was the last thing I needed after a year and a half of pandemic financial losses. Through zero fault of my own I stand to lose many thousands of dollars in property losses. No matter the cost of the insurance policy, there isn't one that can adequately recover losses when one's vehicle is declared a "total loss". I was stolen from and a felonious thief still moves among us.
I evaluate and analyze events so that I can better prepare for them in the future or prevent them from occurring in the first place. Here are a few simple pieces of advice I'd like to share:

ALWAYS wear your seatbelt. Please refer to statistics (or me) if you require further proof of their benefits.

ALWAYS scan an intersection and traffic before proceeding on a green light. With some difficulty, my brother and I returned to the intersection the following day. Tall grasses to the west of the intersection combined with the Mazda's speed of travel would have all but obscured the oncoming car. I've averted others but I couldn't have prevented this accident had I tried.

ALWAYS drive defensively. Motor vehicles are deadly weapons, assume that everyone else on the road is deliberately trying to kill you. Drive with full attention, suspicion, and caution.

Possess good uninsured motorist coverage. Even still, it's not going to be good enough after a "total loss" event. My spouse and I have now had two of these. Sure, the promise of a new car, but it's never a winning proposition for the victim.
It remains a mystery what happened that early Monday morning. Due to a dedicated turn lane and turn signal on the north/southbound boulevard on which I was traveling, the Mazda driver could not have been attempting to run a red light for which he might have been arriving just a second or two late: his light had been red for at least twenty seconds. After watching the police brown-bag evidence from the Mazda, I am convinced that drugs or a crime preceding the accident may play a part. I'll someday have my hands on a police report and video footage. I now have new wheels, but full recovery (upgrading and outfitting) remains a number of weeks away.
My innocent-victim anger lingers but I am ultimately happy that my brother and I were able to walk away from this tragedy. CMOJAVE will ride again.