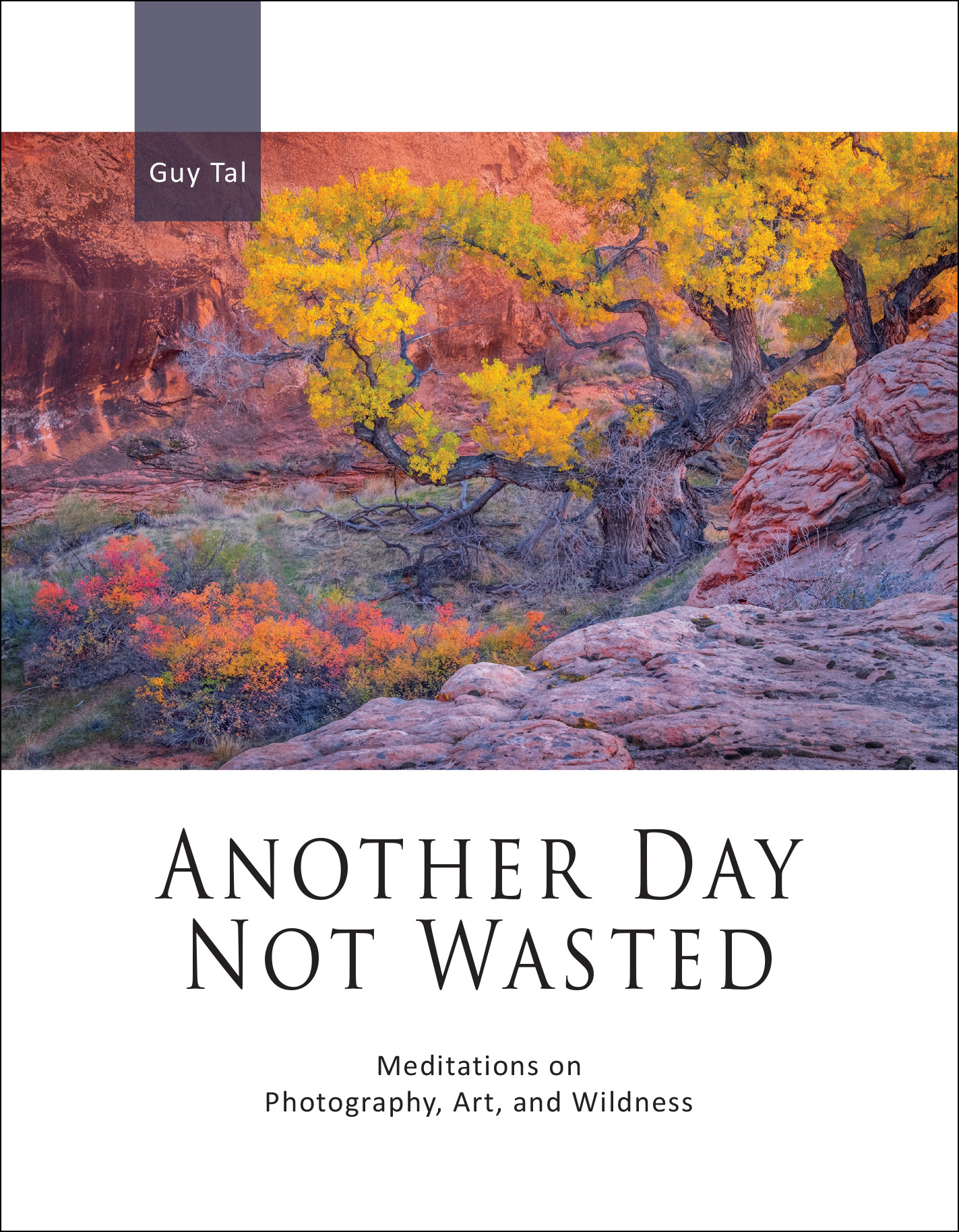 "Don't be afraid to live"
Guy Tal's latest book, Another Day Not Wasted: Meditations on Photography, Art, and Wildness, should find its way into the collection of every nature and landscape photographer who wishes to elevate their life and life experiences. Although ostensibly written for photographers, it will resonate with anyone seeking to enrich their life. The brilliant title alone is enough to pique my interest to discover what is inside. Filled with numerous literary quotes and citations from great philosophers, scientists, and psychologies, its thirty six essays divided into four sections offer motivational and practicable ideas and philosophies not just for photographers and artists but for every being who seeks greater meaning in and value from life.
In the interest of full disclosure, Guy and I have been friends for more than twenty years and we have been teaching workshops together for much of that time. His insatiable appetite for cognitive sciences, philosophy, and psychology, have culminated in a form and style of photographic literature that is all his own. I have read many if not most of the essays and articles Guy has written over the last two decades and I've watched his style mature into an ever engaging form of art. Guy's words may remind some readers of Galen Rowell, who had a knack for blending his own adventures, scientific inquisitiveness, and philosophies into an intellectually engaging style.
Another Day Not Wasted is 208 pages in length and well keyed to each essay, it features more than one hundred of Guy's notable photographs. The book features a beautiful silky matte hardcover and hefty 100 pound page thickness - a delight to hold and thumb through. If you own his Rocky Nook publications (you should) - More Than a Rock and The Landscape Photographer's Guide to Photoshop: A Visualization-Driven Workflow - you will find familiar the design of Another Day Not Wasted (it nestles neatly besides the others on my bookshelf).
Throughout the book you may find yourself repeatedly saying "hmm…I hadn't before thought about that." Another Day Not Wasted may, even if uncomfortably, challenge your beliefs and cause you to reconsider them (the overarching goal of the book, in my opinion). He carefully takes on the words of William Shakespeare, Susan Sontag, Wynn Bullock, and other notables and carefully dissects them like a linguistic artist.
Guy is a thinker, a seeker of truth, a philosopher. It may beneficial for the reader to be a photographer or artist but this book will appeal to people from all walks of life. Consider reading only 2-3 essays at a time and ruminating on them before continuing. There is much to absorb, digest, and ponder in Guy's essays, which tread a unique niche in photographic literature. Guy's essays consistently exceed the standards of the genre and offer as much life coaching as they offer words of advice for the image maker.
Don't waste another day. Buy your copy now.