Fine Art Wide Format Digital Printing Service for Photographers
We are happy to offer expert wide format inkjet printing for photographers and print makers with a standard turnaround time of 48 hours. We employ state-of-the-art dual Epson wide format printers and offer Epson Ultrachrome K3 ink printing on Epson Premium Luster, Moab Juniper Baryta Rag, Canson Infinity Edition Etching Rag, or Hahnemühle German Etching. We expertly profile our own printers and substrates in-house and are happy to offer you our exceptional printing service.
If you are unable to achieve the print you desire or do not have the time and/or expertise to realize your image's potential, Michael is pleased to offer Custom Exhibition Printing. His printing expertise and skill is acknowledged by photographers around the world and he will work directly with you to produce your exhibition masterpiece. Custom Exhibition Printing is $75 per hour (billed in half-hour increments) and does not include the cost of the print or shipping. Excluding difficult files, most Exhibition Prints can be made in under one hour of post-production.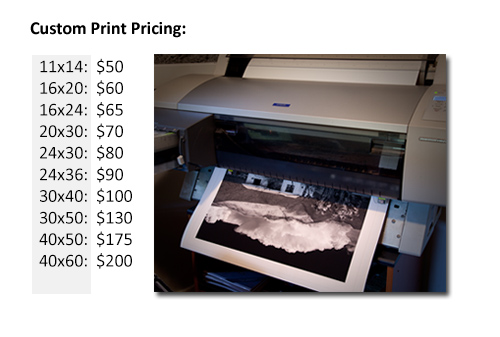 Preparing Your File
1. Your file should remain in its original color space. If Adobe RGB, leave it as Adobe RGB; we'll take care of profile conversion at time of printing. Files submitted for Sepia-tone Piezography prints should be converted to the Gray Gamma 2.2 color space before uploading.
2. Recommended file resolution is 360 dpi. This is the optimal resolution for Epson printers, although many are satisfied with 240dpi or lower resolutions. If your file is smaller than 360 dpi and you wish to avoid aliasing, consider "up-rezzing" (interpolating) your file to 360 dpi. 240 dpi files typically print fine and with no noticeable loss of resolution.
3. File type must be TIFF or JPEG only with all layers flattened.
4. Add any desired borders to your file. If you want one inch borders, include them in your file and please include 'stroke' or trim marks. A 20x30" image area with one inch borders will result in a final file size of 22x32".
5. Send your file to info@michael-gordon.com using your choice of file sharing service (Dropbox.com; SendThisFile.com; YouSendIt.com, etc.).
6. Send us an email to let us know about your order. Please indicate your print size(s), paper preference(s), and any other details we should know about. We'll follow up with you upon receipt of your email.
7. 8.5x11" proof prints are available for $20 each. We recommend a proof before committing to larger prints to confirm color reproduction, paper selection, etc. Please let us know that you would like a proof when you submit your email.
We are not responsible for improperly prepared client files. If you're worried about getting your file right for printing, you can send us your prepared master file and have us handle the resolution/sizing and sharpening for output. Our file preparation fee is $25 per print.
All prints are carefully rolled, packed in a tube, and shipped insured with U.S. Postal Service or FedEx.
Payment may be submitted via PayPal, credit card, or personal check.
Any questions? Please contact us. Thank you for your order!