Joshua Tree National Park, California

Limited to 5 photographers; $695 tuition

"Michael's Introduction to Large Format Photography workshop is more than just about learning camera movements. While his instruction is superb and his practical approach is easy to understand and demystifies the the use of the view camera, it is the passion he brings to the craft, and the environment in which he works, that inspires one to pursue the art of photography... I highly recommend this workshop to anyone who wants to immerse themselves in large format photography and increase their visual awareness." Greg Spier - Houston, TX
READ TESTIMONIALS from many of Michael's workshop and tour participants.
View video excerpts from previous Introduction to Large Format Photography workshops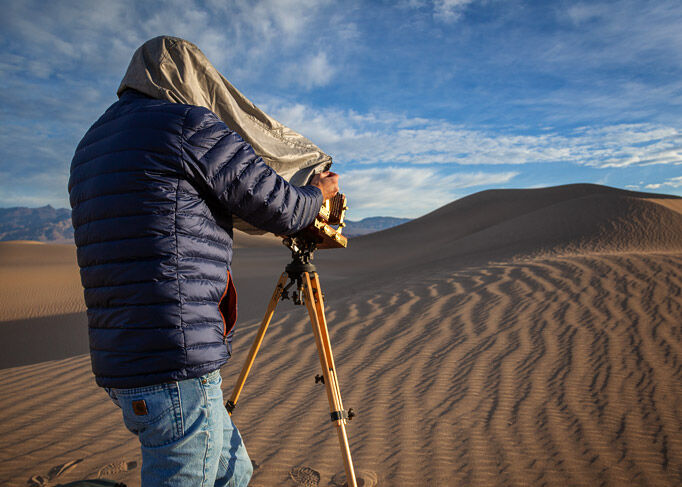 Film-based large format photography is still alive and kicking in 2020. The large format camera offers complete control over the entire creative image-making process from fine focus to intentional perspective distortion, and from depth of field controlled by camera movements to images of extraordinary detail and sharpness. The marketplace offers no shortage of used and affordably-priced large format gear, and newer high quality yet moderately priced field cameras have made this an excellent time to venture into large format.
This course accommodates all skill levels including those who have previously worked with large format and have struggled with it. My teaching methods and techniques are direct, uncomplicated, and easy to comprehend. You will be able to efficiently and confidently compose, focus, meter, and expose your own large format photographs upon completion of this intensive two day workshop.
Following is just a partial list of what we'll study and practice during the workshop:
Essential gear: Cameras, lenses, accessories
Setup, focusing, and movements (rise/fall; shift; swing; tilt)
When to use which movements
Using compound movements
the Scheimpflug principle
Close-up photography
Bellows compensation
Everything you need to know about film
Metering and Exposure
Basic principles of Zone System
Working with filters
Workflow
The hybrid process/digitizing film
We cover everything you need to know to confidently make large format photographs!
We will discuss but not develop film; local film developing is unavailable

NO PREVIOUS LARGE FORMAT EXPERIENCE IS REQUIRED! Previous large format camera experience is not required. Michael will have 1-2 cameras available to practice with during the workshop and rentals are available from select camera shops. If you would like to attend this workshop but do not already own a large format camera, please discuss loan options with Michael.
This workshop is sponsored by Chamonix View Cameras, and all workshop participants are eligible for discounts on Chamonix cameras and accessories.
General Info and Policies
This Introductory workshop will provide you with in-depth instruction in remote and unique field settings. The main focus of this workshop is learning; be prepared for intensive discussion, demonstrations, and camera practice, but come for the fun, inspiration, and camaraderie. Here especially, my small group size assures that you will have adequate time with your instructor and that all your individual questions can be answered.
What is Included
Your workshop fee includes full instruction and location guiding. Upon receipt of your deposit/payment, you will be emailed a trip checklist and other important information to assist you with your preparations. At the workshop, all participants receive an instructional packet filled with articles, a couple of useful Large Format tools, and other goodies.
What is Not Included
Airfare, car rentals/transportation, lodging, meals, film, and National Park entrance fees are not included, nor are any items of personal nature. Participants will be required to transport themselves (carpooling is highly encouraged) to and from the workshop location, which is approximately 2-3 hours drive from Los Angeles (one hour drive from Palm Springs).
Location
This workshop takes place in world famous Joshua Tree National Park. We'll be learning in outstanding locations and will have access to all of Joshua Tree's incredible scenery. We'll visit, practice camera techniques, and expose film in numerous inspiring locations.
Accommodations
Nearest lodging is available in Twenty Nine Palms (a 20 minute drive into the Park) or in Yucca Valley (a 30 minute drive into the Park) . You may also choose to camp in one of the Park's developed campgrounds.
Meals
Eat breakfast each day before meeting. We'll take a mid-day lunch break (sack lunch or snacks) while working in the Park. Numerous dining options are found in Yucca Valley, Joshua Tree (town), and Yucca Valley.
Registration and Payment
To guarantee registration in this workshop, full payment is required. Previous workshop participants may enjoy a 10% discount on tuition and should contact Michael to register.
Cancellation Policy
It is impossible to predict the weather when scheduling a workshop. What some consider "bad" weather often makes for the best photography. The workshop will not be cancelled or postponed due to weather unless extreme conditions make it unsafe to continue. Participants should come to the workshop prepared for all weather conditions (cold, hot, snow, sun, rain).
If the workshop is cancelled by Michael E. Gordon for any reason, a full refund of the amount paid will be sent to each participant.
Occasionally circumstances arise that prevent a person from participating in a workshop after registration. We recommend travel insuranceIf you wish to protect your investment in the workshop and related travel costs.
Cancellations, for any reason, must be in writing (e-mail or postal mail).
Refund Policy
• If you cancel 30 days or less prior to the workshop start date, you forfeit your registration fees;
• If you cancel 31-60 days prior to the workshop start date, we will refund 50% of your registration fees;
• If you cancel 60 or more days prior to the workshop start date, we will refund your registration fees less a $150 administration fee.
Please contact Michael if you have any questions about this workshop.